Raspberry yogurt ice cream "keep cool"
Easy
0.5-3 g LCT per 100 g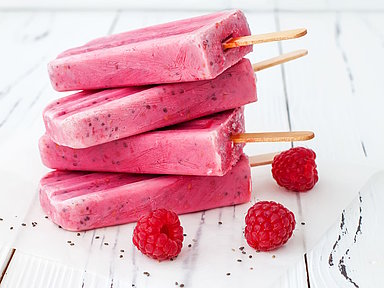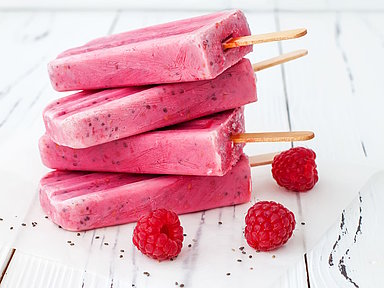 Preparation
Step 1
Wash the lemon hot, dry with kitchen paper and thinly grate the zest. Then squeeze the juice from the lemon.
Step 2
Wash the raspberries and let them dry. Then mash them with a fork and mix with lemon juice and 2 tablespoons of the honey.
Step 3
Mix yogurt with KetoBiota, vanilla sugar, lemon zest and the remaining honey.
Step 4
Divide 1 tablespoon of raspberry puree among 6 popsicle molds. Mix the remaining raspberry puree with the yogurt cream and layer on top of the raspberry puree in the popsicle molds.
Step 5
Insert popsicle sticks into the mixture and freeze for at least 4 hours. To release, hold the molds briefly in warm water.
Nutritional values
| | Total (417.5 g) | Per 100 g |
| --- | --- | --- |
| Energy (kcal) | 464.4 | 111.2 |
| Fat (g) | 13.8 | 3.3 |
| of which LCT (g) | 4.1 | 1.0 |
| of which MCT (g) | 10.0 | 2.4 |
| Carbohydrates (g) | 57.9 | 13.9 |
| Protein (g) | 12.7 | 3.0 |