Almond paste pralines with KetVit-topping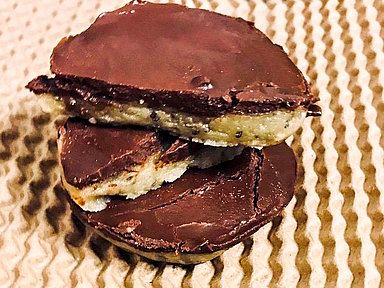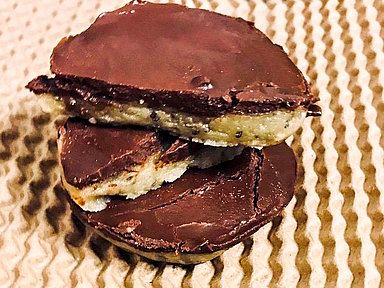 Ingredients
provides 421.3 kcal per 74.0 g
| | |
| --- | --- |
| 40 g | Almond paste, white |
| 2 g | Chia seeds |
| 3 g | Water, warm |
| 5 g | Stevia |
| 24 g | KetVit (Kanso) |
Preparation
Step 1
Stir together almond paste and chia seeds.
Step 2
Add the warm water and Stevia.
Step 3
Pour the mixture into small muffin tins using 26 g dough each as a base.
Step 4
Cover each with 12 g of KetVit and place in the refrigerator for about 1 hour.
Nutritional values
| | Total (2 portions - 74.0 g) | Per portion (37.0 g) |
| --- | --- | --- |
| Ketogenic Ratio | 2.8:1 | 2.8:1 |
| Energy (kcal) | 421.3 | 210.6 |
| Fat (g) | 38.7 | 19.3 |
| of which MCT (g) | 5.9 | 2.9 |
| Carbohydrates (g) | 2.5 | 1.3 |
| Protein (g) | 11.3 | 5.6 |