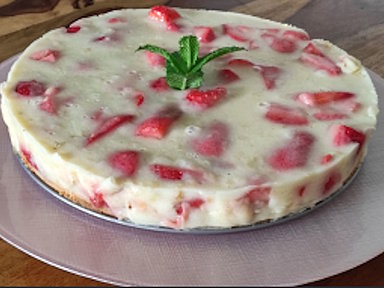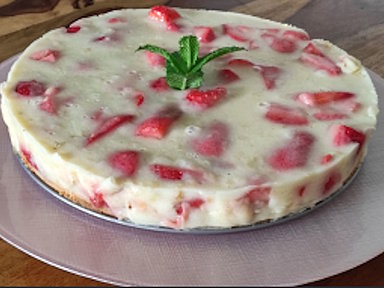 Ingredients
Provides 1799.3 kcal per 1251.5 g
| | |
| --- | --- |
| For the dough: | |
| 15 g | Egg substitute |
| 150 ml | Water |
| 25 drops | Vanilla aroma |
| 30 ml | Rapeseed oil |
| 65 g | Erythritol |
| 100 g | KetoBaking Mix (Kanso) |
| 66.5 g (5 pouches) | MCTfiber (Kanso) |
| 1/4 tsp. | Baking powder |
| | |
| For the topping: | |
| 200 g | Strawberries |
| 250 ml | Soy drink, without sugar |
| 250 ml | Water |
| 50 g | Vanilla pudding powder, without sugar |
| 75 g | KetoBiota (Kanso) |
Cake pan 26 cm, citrus fiber and oil to grease the pan
Preparation
Step 1
Preheat the oven to 180 degrees (top/bottom heat).
Step 2
For the batter, mix the egg substitute with water and then add vanilla aroma, rapeseed oil and erythritol. Mix all ingredients until foamy.
Step 3
Then add KetoBaking Mix, MCTfiber and baking powder and mix with a dough hook.
Step 4
Grease the cake pan and dust with citrus fiber. Spread the batter evenly in the pan and bake in the oven for 15-20 minutes.
Step 5
Let the cake cool and prepare the strawberry topping. To do this, weigh the strawberries, wash them and spread them on the cake.
Step 6
For the cake glaze, heat soy drink and water in a saucepan and stir in the pudding powder and KetoBiota once it has come to the boil. Then bring to the boil again briefly and spread the mixture over the cake.
Nutrional values
| | Total (8 portions - 1251.5 g) | Per portion (156.4 g) |
| --- | --- | --- |
| Ketogenic Ratio | 1.8:1 | 1.8:1 |
| Energy (kcal) | 1799.3 | 224.9 |
| Fat (g) | 142.3 | 17.8 |
| of which MCT (g) | 82.3 | 10.3 |
| Carbohydrates (g) | 33.3 | 4.2 |
| Protein (g) | 41.9 | 5.2 |