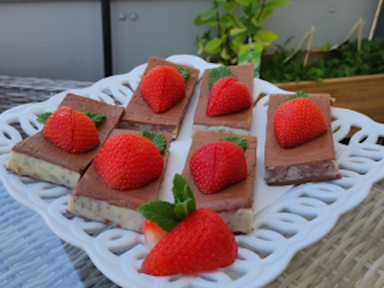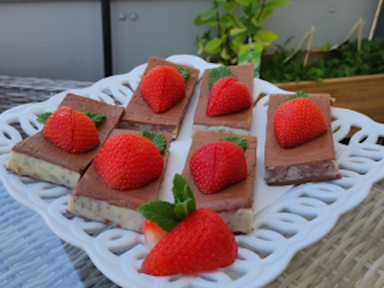 Ingredients
Provides 1488.8 kcal per 805.4 g
| | |
| --- | --- |
| For the dough: | |
| 50 g | KetoBaking Mix (Kanso) |
| 15 g | Cocoa powder |
| 39.9 g (3 pouches) | MCTfiber (Kanso) |
| 10 g | Egg substitute |
| 175 ml | Water |
| 15 g | Erythritol |
| 1 pinch | Salt |
| 10 g | Protein substitute |
| 1/4 tsp. | Baking powder |
| | |
| For the filling: | |
| 100 g | Strawberries |
| 70.5 g (3 pouches) | KetoBiota (Kanso) |
| 50 ml | Water |
| 250 g | Curd cheese, 40 % fat |
| 20 g | Chia seeds |
Preparation
Step 1
Preheat the oven to 180 °C (top/bottom heat).
Step 2
Mix KetoBaking Mix with cocoa powder and MCTfiber. Prepare egg substitute with 100 ml water according to package instructions and add to flour mixture. Mix in erythritol and salt.
Step 3
Then mix the protein substitute with baking powder and the remaining water until stiff and gently fold into the dough.
Step 4
Line two baking sheets with baking paper and spread the mixture evenly on both sheets. Bake the dough in the oven for about 15 minutes.
Step 5
For the filling, mix KetoBiota with water and curd cheese to a creamy mass. Then wash the strawberries, cut into small cubes and add to the mixture together with the chia seeds.
Step 6
Spread the filling equally on one of the cooled pastry bases. Remove the second pastry base from the baking sheet, turn it upside down and carefully place it on top of the filling. Cool the cake in this state for about 2 hours. Then it can be divided into shortcakes.
Nutritional values
| | Total (10 shortcakes - 805.4 g) | Per shortcake (80.5 g) |
| --- | --- | --- |
| Ketogenic Ratio | 1.2:1 | 1.2:1 |
| Energy (kcal) | 1488.8 | 148.9 |
| Fatt (g) | 109.1 | 10.9 |
| of which MCT (g) | 71.0 | 7.1 |
| Carbohydrates (g) | 30.3 | 3.0 |
| Protein (g) | 58.7 | 5.9 |