Bread salad
Easy
< 0.5 g LCT per 100 g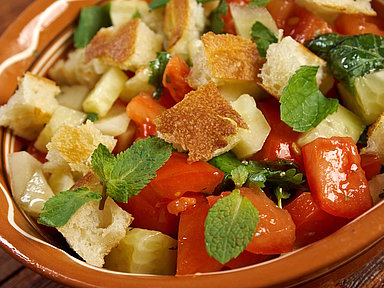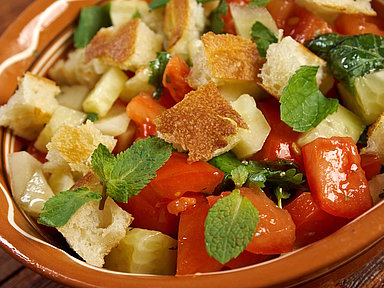 Preparation
Step 1
Toast rye bread, rub with halved garlic clove and cut into cubes.
Step 2
Quarter cucumber lengthwise, scrape out seeds and cut into slices. Cut tomatoes into eighths.
Step 3
Mix cucumbers, tomatoes and basil leaves with MCT Oil 100 % and balsamic vinegar and season with salt and pepper.
Step 4
Mix the bread cubes into the salad and serve immediately.
Nutritional values
| | Total (400.0 g) | Per 100 g |
| --- | --- | --- |
| Energy (kcal) | 457.4 | 114.4 |
| Fat (g) | 19.9 | 5.0 |
| of which LCT (g) | 1.7 | 0.4 |
| of which MCT (g) | 18.2 | 4.6 |
| Carbohydrates (g) | 54.2 | 13.6 |
| Protein (g) | 10.1 | 2.5 |