Fried noodles
Moderate
0.5-3 g LCT per 100 g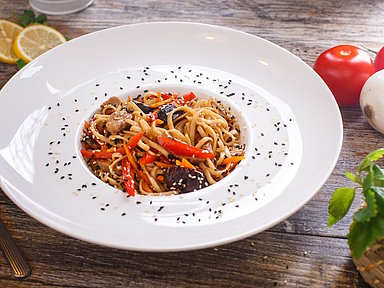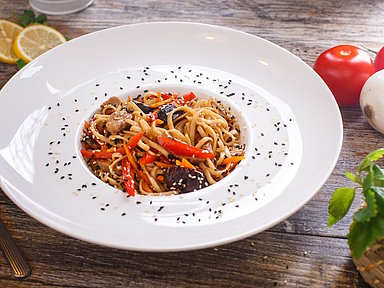 Preparation
Step 1
Cook pasta according to package instructions until al dente, then drain.
Step 2
Then marinate pasta with soy sauce, MCT Oil 100 %, paprika powder, salt, pepper and sugar.
Step 3
Peel and finely chop onions and garlic. Wash and peel carrots and cut into cubes. Wash the leek and cut into fine rings.
Step 4
Lightly fry onions and garlic in a pan without fat. Add carrots and steam in a little water for about 5 minutes, then add leek and soy sprouts and steam for another 5 minutes. Season with salt and pepper and drain water.
Step 5
Then add the marinated pasta and fry briefly. Season again to taste and serve.
Nutritional values
| | Total (1036.0 g) | Per 100 g |
| --- | --- | --- |
| Energy (kcal) | 2064.3 | 199.3 |
| Fat (g) | 46.6 | 4.5 |
| of which LCT (g) | 10.2 | 1.0 |
| of which MCT (g) | 36.4 | 3.5 |
| Carbohydrates (g) | 315.0 | 30.4 |
| Protein (g) | 72.5 | 7.0 |