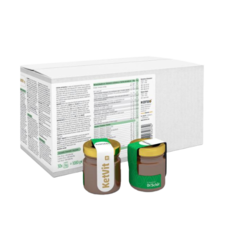 Kanso KetVit
Food for special medical purposes
Ketogenic hazelnut cocoa cream with medium chain triglycerides (MCT fats) for direct consumption or as an ingredient in delicious keto recipes.
Very high fat keto booster
Ketogenic ratio of 5.7:1
Contains MCT fats (60 % C8, 40 % C10)
With vitamins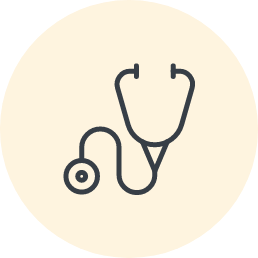 Ketogenic Diet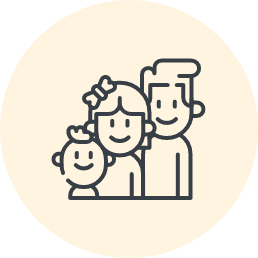 From 3 years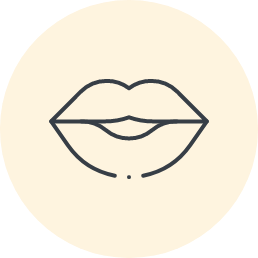 Hazelnut-cocoa

Prescribable and reimbursable
Nutritional values
Ingredients
How to get?
Order information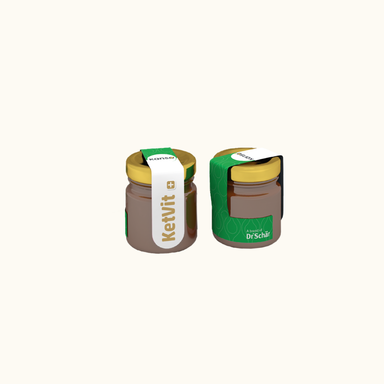 Nutritional values
| | | |
| --- | --- | --- |
| | Per 100 g | Per jar (36 g) |
| Energy | 594 kcal | 214 kcal |
| Fat | 56.7 g | 20.4 g |
| of which MCT fat | 24.5 g | 8.8 g |
| Carbohydrates | 7.6 g | 2.7 g |
| of which polyols | 6.1 g | 2.2 g |
| Protein | 8.4 g | 3.0 g |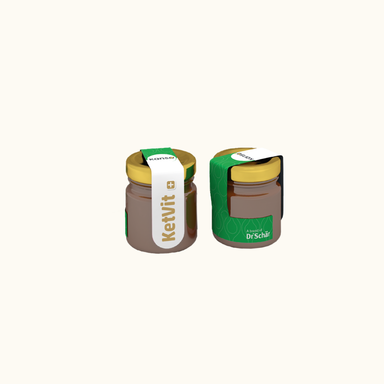 Ingredients
Medium chain triglycerides 24.5 % (from palm kernel and coconut fat), thickener: cellulose; palm fat, hazelnut paste ("Nocciola Piemonte PGI. ") 9 %, cocoa butter, vegetable fiber (inulin from chicory, soluble corn fiber), cocoa powder 6 %, sweeteners: erithrytol, sucralose; milk protein 3.6 %, soy protein, emulsifier: Mono- and diglycerides of fatty acids; tricalcium phosphate, sunflower lecithin, natural vanilla flavor, vitamin mix (vitamin C, vitamin D3, maltodextrin, vitamin E, niacin, vitamin A, pantothenic acid, folic acid, vitamin B6, vitamin B12, vitamin B2, vitamin B1, vitamin K1, biotin). May contain traces of lactose (milk) and other nuts.
How to get?
To learn about the avaibility of this product in your country send us an e-mail at info(at)kanso.com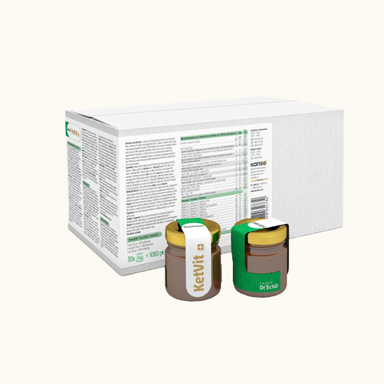 Order information
Smallest sales unit: 30 x 36 g (1080 g)
Frequently asked questions
What is the shelf life of KetVit?
Unopened, the minimum shelf life is 12 months.
Unopened, KetVit should be stored at room temperature in a cool place between 18° and 20° C, in a dry place, protected from sunlight and other sources of heat.
After opening, reseal jar tightly, store at room temperature between 18° and 20° C, protect from sunlight and other sources of heat. Once opened, use within 5 days.
How should KetVit be dosed?
Dosage must be determined by your physician or dietitian and is dependent on age, weight, and your individual diet plan.
Do I need to incorporate KetVit slowly into my diet?
KetVit contains MCT fats. In order to increase tolerance, we recommend to incorporate the product gradually into the diet.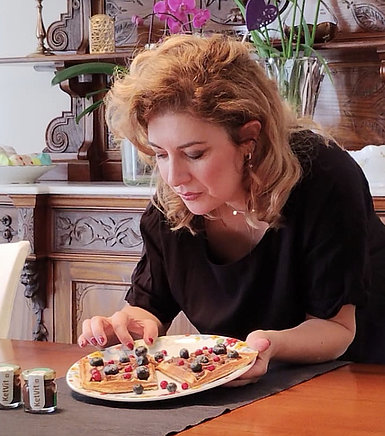 KetVit is the perfect topping for my daughter's favourite breakfast - waffles.
Elena`s mother (Elena, 10 years old)
Kanso's Ketogenic Recipes